Learn how to customize the Editor canvas's 2D and 3D view settings.
The Editor has a variety of canvas visibility settings you can customize to suit your workflow. To access the view settings, Click the Main menu on the top left of the toolbar, and select View.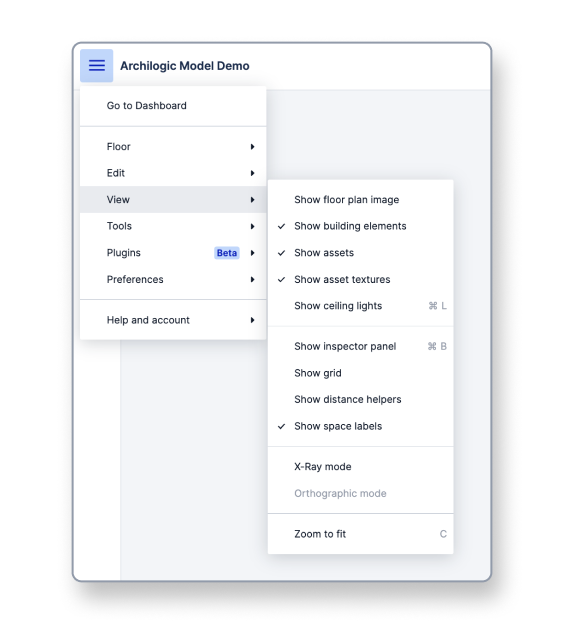 The below table explains each setting in detail.
View Setting

Available in

2D View

3D View

Show floor plan image

Show/hide the original floor plan image in the background. If the model is converted by Archilogic, this is the original floor plan you uploaded to our model order portal. Learn more about model order.

✅

-

Show building elements

Show/hide all the structural elements such as walls, windows, doors, etc. Learn more about building elements.

✅

-

Show assets

Show/hide all the assets such as furniture, appliance, etc. Learn more about assets.

✅

-

Show asset textures

With the assets shown, you can set to show/hide the asset textures and materials.

✅

-

Show ceiling lights

Show/hide all ceiling lights. By default, ceiling lights are set as hidden in 2D view. Learn more about ceiling lights.

✅

-

Show inspector panel

Show/hide the inspector panel. Learn more about the inspector panel.

✅

✅

Show grid

Show/hide the grid in the canvas background. The grid and the scale bar on the lower left of the canvas can be handy tools to help you estimate the distance between objects.

✅

-

Show distance helpers

Show/hide distance helpers between structural elements or assets. Learn more about distance helpers.

✅

-

Show space labels

Show/hide the space labels including usage, name, custom ID, and size.

✅

-

Show X-Ray mode

Switch between opaque vs transparent model. The X-ray mode sets all model elements to 50% transparency. In combination with the floor plan image shown, you can adjust the 3D elements to align with the original floor plan easily.

✅

✅

Orthographic mode

Switch between an orthographic view and a perspective view in 3D.

-

✅

Zoom to fit

The default zoom level is set to Zoom to fit. This focuses the viewport so you can see everything on the canvas.

✅

✅