This article shows you how to create or edit camera bookmarks in order to present your Archilogic building model from the best angle
Each Archilogic building model comes with its own set of camera bookmarks that were added during the conversion process. Their purpose is to present them from different angles and give the viewer a good overview of the space.
With the camera-bookmarks feature, you're able to edit these bookmarks and choose how you want to present your Archilogic building model and which areas of the space you want to highlight.
To edit the camera bookmarks of a building model you first have to open it in the dashboard and select the editor app on the left side of the menu.

Switch to the 3D view mode by clicking the "3D View" button in the lower-left corner of the window.

After switching to the 3D view mode a new button will appear right next to the view mode buttons.

Click it to open the camera bookmarks menu. The camera bookmarks menu will show you all existing camera bookmarks and allow you to either edit, delete or rearrange them. It also allows you to create completely new camera bookmarks.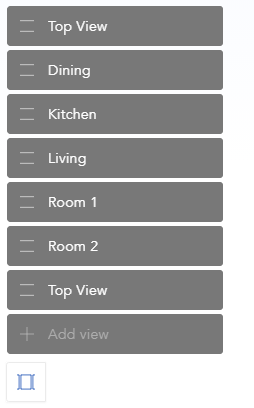 To create a new bookmark simply move the view camera to the desired location and then click the "+" button. This will create a new bookmark that contains the current camera position, rotation, and view angle.

Double click the Text of a camera bookmark to change its name.

Drag the left side of a camera bookmark up or down to change the order of the presentation. The presentation will always start at the top and end at the bottom of the bookmark list.

Move the mouse cursor over an existing camera bookmark to edit it. A couple of additional buttons will appear on the right side of the bookmark.

The camera button allows you to overwrite the current content of a bookmark with new coordinates. Simply move the view camera to the desired position first and then click the camera button.

The trashbin button allows you to delete the selected bookmark from the list.

The last button lets you create a copy of the selected bookmark if you want to show the same camera position twice during a presentation.

Your changes will be saved automatically. However, to share them with someone else you have to publish your model first.