This article shows you how to dissolve a group of different furniture objects
To dissolve a group of furniture objects, select the group in the editor by left-clicking it. Once selected, a context menu will appear next to the group: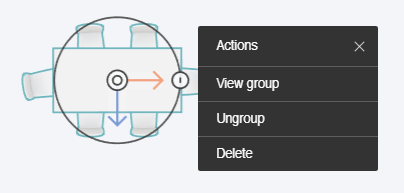 Click "Ungroup" to dissolve the group.
You can also achieve the same result by selecting a group and pressing the Ctrl/CMD + Shift + G keys on your keyboard.
Once the group has been dissolved, you can access each furniture object separately.
---
KB-14