This article shows you how to add doors to your Archilogic building model
This article is intended for users enrolled in our beta program. If you are interested in joining, please get in touch with our solutions team.
Open the model that you want to adjust in the editor and unlock structural editing.
Then click the pencil button to open the drop-down menu and select the Door drawing tool. Alternatively, you can also use the "DR" keyboard shortcut to select the window drawing tool.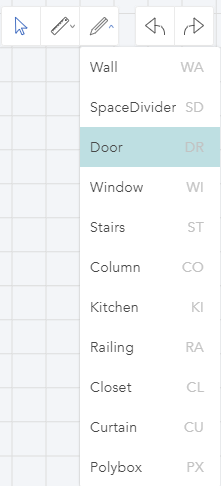 Once the door drawing tool is selected move your mouse cursor over an already existing wall to which you want to add a door. Left-click to start drawing. Drag the mouse cursor to either side and left-click again to stop the drawing process.

Select the door by left-clicking it to access additional drawing options in the menu bar on the right side of the window.
Position
With the X value, you can change the horizontal position of the door in relation to where it is on the wall.
The Base position value controls at which height from the floor the door starts.

Dimensions
With the Height value, you can control how high the door is, while the Length value lets you control the vertical length of if. The Door angle controls the opening angle of the door. The door is closed if the angle is 0°.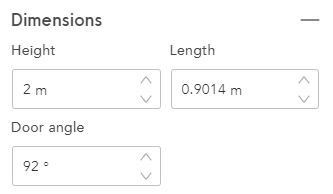 Configuration
The configuration menu allows you to customize the look and type of your door.
The Door type dropdown menu allows you to choose between a couple of different door types such:
Single swing
Double swing
Swing fix
Swing double fix
Double swing double fix
Sliding door
Opening
Elevator door
Garage door
The Handle type dropdown menu allows you to choose between a couple of different door-handles such as:
Square edged
Round
Classic
Knob
The Hinge dropdown menu allows you to control if the hinge of the door is on the right or left side of the door.
The Swing direction dropdown menu allows you to control if the door opens towards the front or towards the back.
The Frame length value allows you to adjust how far the door frame extends towards its own center. The Frame offset value controls how wide the door frame is in the direction of the wall thickness.
With the Threshold height value, you can control whether the door threshold is raised slightly from the floor or not. By unticking the Threshold checkbox you can also remove it completely.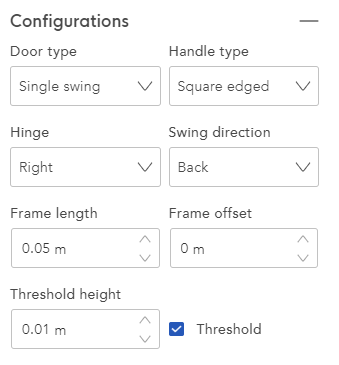 Materials
At the bottom of the menu bar, you can adjust the materials of the door.
You can select a material from the dropdown menus for the door leaf and for the threshold.
In addition, you can select a color for the door frame. To do so simply left-click the text box and paste a hexadecimal color value or left-click Custom to open a color picker tool and choose the color that you like.