This article shows you how to manage and edit access permissions within your Archilogic account
After using the Archilogic platform for a while you may suddenly realize that quite a lot of people have access to your building models. As an account admin, it is your task to make sure that only those who really need access to your account can access them to prevent, for example, building models from accidentally being deleted.
This feature needs to be activated manually.
Reach out to our solutions team to activate it.
To open the permissions menu you have to click the circle button on the right side of the window and then select "Account.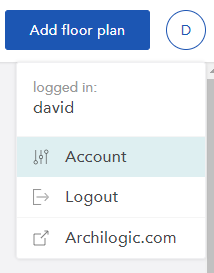 Next, click the "Team" button on the left side of the window.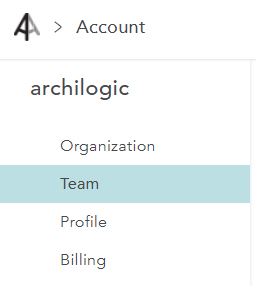 You will now see a list of all the people you've invited to your Archilogic organization in the past.
The first two columns of the list show you the name and email address of the person while the two last columns allow you to edit their access permissions.

The Can order checkbox allows you to control whether or not a person can place floor plan conversion orders or not.
The permissions drop-down menu allows you to select between Admin, Can edit and Can view.
Admin
The Admin permissions let you do everything. You can:
Invite people to your Archilogic account
Remove people from your Archilogic account
Change access rights for people in your Archilogic account
Edit billing information
Access all apps
Edit building models
Archive/Unarchive building models
Delete building models
Edit building model metadata
Create and manage folders
Create API Tokens
Can edit
The "Can edit" permissions allow you to access all apps and edit building models or building model settings.
Access all apps
Edit building models
Edit building model metadata
Create and manage folders
Archive/Unarchive building models
Can view
The "Can view" permissions allow you to access all apps with the exception of the editor
Access all apps with the exception of the editor
View building models