This article shows you how to export your building model from the Archilogic Dashboard as an IFC file
You can export your Archilogic building model as a 3D IFC file that can be imported into other 3rd party 3D programs such as Revit. Please be advised that the exported IFC file only contains the architectural features of the model (floors, walls, windows, doors) but not the interior assets such as furniture objects or any materials.
To export an IFC file, you must be logged into your Archilogic account.
Start by opening the building model you want to export in your Dashboard by clicking the model tile:
Once you've opened the building model, make sure that you're using the Viewer tab by clicking the "Viewer" button on the left side of the page:

In the view tab, you'll find the share button on the lower right corner of the page.
Click it to open the share menu:
To export the IFC file, click on the "Download" tab in the share menu and click Export IFC model to open the Save As dialog box. If you can't see the download tab, it either means that you're not logged into your Archilogic account or that the model you're trying to export does not belong to your organization.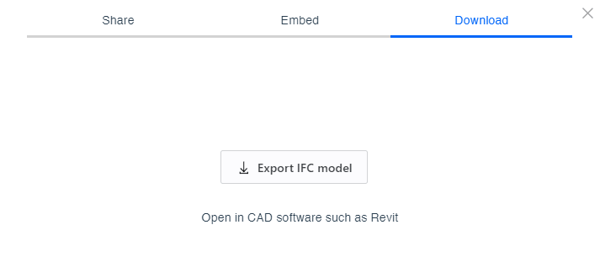 ---
KB-11