This article shows you how to make a screenshot of your Archilogic model in the viewer
In order to save a screenshot of one of your Archilogic models you first have to open it in the viewer.
Once the model is open you can adjust the camera angle to your liking before clicking the screenshot button in the lower right-hand corner of the window.

After clicking the button you will have the option to either export your current view as a JPG or a PNG image file.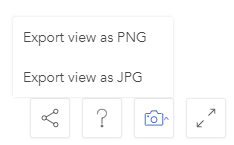 As soon as you click one of the options your current view will be saved as a screenshot.
If you select the PNG file type the background of your screenshot will be transparent.